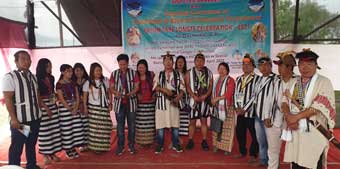 DOIMUKH, 8 Apr: The first ever Longte festival celebration in Papum Pare district began here on Thursday.
"Our tradition is our culture and we need to preserve it at any cost or we may lose our tribal identity," said Central Longte Committee (CLC) vice chairman and former Kurung Kumey district ZPC, Sangha Tagik.
Speaking on the occasion Tajik said Longte is celebrated for the wellbeing of all.
"Sacrifices are made in other festivals, but during Longte, we make no such sacrifice and we pray for the safety of human beings from evil forces and for good health, peace, harmony and development," he said.
He also called upon parents to impart the younger generation with traditional values and ethos of the society so that they can carry forward the legacy of the tribal culture and tradition. He also said no matter which religion people practice but the need of the hour is to protect cultural values and traditional identity.
CLC assistant general secretary, Tadar Zaman spoke on the genesis and activities being carried out during the festival celebration as a resource person.
Among others, Papum Pare Longte Celebration Committee chairman, Tadar Niki, general secretary Yab Lotus, joint secretary Tadar Nyokum, and overall in-charge Pisa Tabin also spoke on the occasion.
The dignitaries also kicked off the games and sporting events and inaugurated food stalls. The weeklong celebration will witness several sporting and cultural programmes which will see the participation of several teams from various parts of the district.