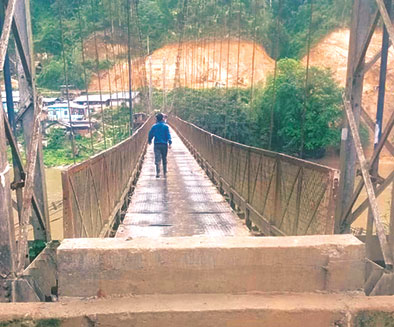 [ Karda Natam ]
DAPORIJO, 16 May: The closure of the suspension bridge over the Subansiri river here in Upper Subansiri district has affected commuters and residents alike.
The administration has closed the bridge to two-wheelers and three-wheelers in view of the weakness of the bridge. Located in Pakam Colony, the bridge connects Dumporijo with Daporijo. Its closure has affected the normal life of the people residing in Dumporijo, as the bridge is the lifeline for the people of Dumporijo and several villages.
Daily wage earners who come here to sell vegetables and other commodities are the worst affected as they cannot use autorickshaws and two-wheelers to transport their goods.
The All Upper Subansiri District Students' Union apprised the deputy commissioner of the situation and sought immediate renovation of the bridge.
However, the administration informed that it has been compelled to restrict the movement of vehicles on the bridge as it cannot be maintained due to lack of fund.
The union has appealed to the state government to immediately look into the matter and provide fund for repairing the bridge.