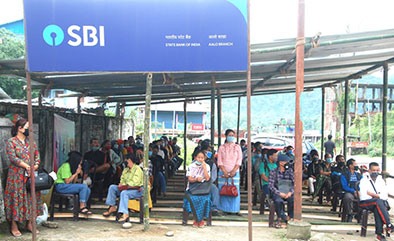 AALO, 17 May: In view of the surging Covid-19 cases and to contain the rush at the SBI branch here, the West Siang district administration erected a waiting shed again for the SBI's customers here on 16 May.
The administration has also shortened the working hours of the bank.
Deputy Commissioner Moki Loyi, who visited the shed, said it has been erected again to ensure maintenance of social distancing and to provide comfort to the customers.
The shed is being regulated by the police. It was constructed by the ALCs of the district administration under the supervision of DDMO Nima Dorjee. (DIPRO)