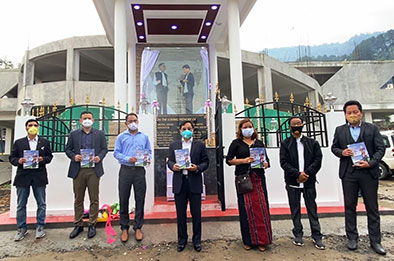 KHONSA, 21 May: The second anniversary of the 21 May massacre in Tirap district, in which 11 persons, including MLA Tirong Aboh and his son were ambushed and killed by suspected NSCN-IM militants near Bogapani, was observed here on Friday.
On the occasion, the 'statues-cum-monument' of Aboh and his son were unveiled by MLA Wanglin Lowangdong in the presence of late Aboh's wife Chakat Aboh (MLA), SP Kardak Riba, Dadam ZPM Jamwang Lowang, Dadam CO Pik Tayom, chief of Dadam W Lowang, and pastor Wange Wangpan.
Lowangdong, who is also the chief of Borduria, released the biography of Aboh and an audio song dedicated to him. Various developmental works and infrastructures created in the district, particularly in Dadam area, under Aboh's initiative
were highlighted by Jewang Sumnyan of Dadam village.
The people also assembled at the Dadam memorial ground and offered prayers for all those who were killed in the massacre. (DIPRO)