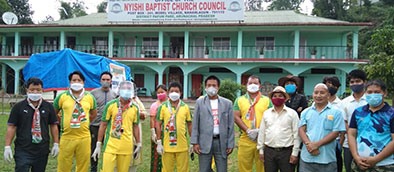 ITANAGAR, 21 May: The Arunachal Pradesh Congress Committee (APCC) observed the 30th death anniversary of former prime minister Rajiv Gandhi at Rajiv Gandhi Bhavan here on Friday.
On the occasion, Congress party leaders and workers organized a prayer meeting for the Covid-19 victims and the frontline workers.
In memory of Gandhi, APCC president Nabam Tuki distributed quintals of rice to the villagers in Sagalee constituency, and created awareness on Covid-19 SOPs.
The APCC's Covid-19 monitoring committee, led by Gyamar Tana, distributed rations to the destitute home at the Hara Hapa prayer centre, the Nyishi Baptist Church Council prayer centre, and the Mother Teresa Home in the Itanagar capital region.
In Changlang, APCC secretary Sethai Sena and Arunachal Pradesh Mahila Congress vice president Pinna Kitnal Muklom distributed packed lunch to Covid patients at the Miao CHC, besides handing over ration to the CHC's MO Dr H Jongsam.
In Lower Dibang Valley district, DCC president Etra Linggi distributed fresh organic farm vegetables.
Rajiv Gandhi University (RGU) also on Friday observed the Anti-terrorism Day to commemorate Gandhi's death anniversary.
The day is also observed to spread the message of peace, harmony and humankind, and to promote unity among the people.
Speaking on the occasion, RGU Vice Chancellor Prof Saket Kushwaha said, "We should not wait for the fire of terror to engulf or spread; rather, we should step forward to quench such devastating fire called terrorism."
"Every night has a day, and we must believe in national integrity," the VC said, and added that "we should always do our little bit at best to stop terrorism."
The VC also encouraged the gathering to go for vaccination as per the government norms.
Faculty members, scholars, alumni and officials of the university participated in the anti-terrorism pledge-taking ceremony in the blended mode. It was administered by the RGU Registrar Dr NT Rikam and Joint Registrar Dr David Pertin, in English and Hindi, respectively.
Among others, Pro-VC Prof Amitava Mitra, Controller of Examinations Dr Bijay Raji, deans of faculties, and heads and directors of the departments and institutes attended the programme in the blended mode.
DIPRO adds: Anti-terrorism Day was observed in Lahu, Lazu and Noglo villages in Tirap district under the initiative of the Khonsa battalion of the Assam Rifles (AR) and the Tirap police on Friday.
In Lahu, an 'anti-terrorism rally' was organized by the villagers to raise their voice against "terrorism and abduction of gaon burah and raja by insurgents of the NSCN (K-YA) on 1 April" which had enraged the locals.
Children of Noglo village also enthusiastically conducted a rally to spread the message of peace, humanity, unity and harmony in Tirap district.
During the rally, the villagers expressed their resolve to oppose all forms of terrorism and violence, and to promote peace and social harmony.
Anti-terrorism pledge was taken by the villagers, officials and police and AR personnel.