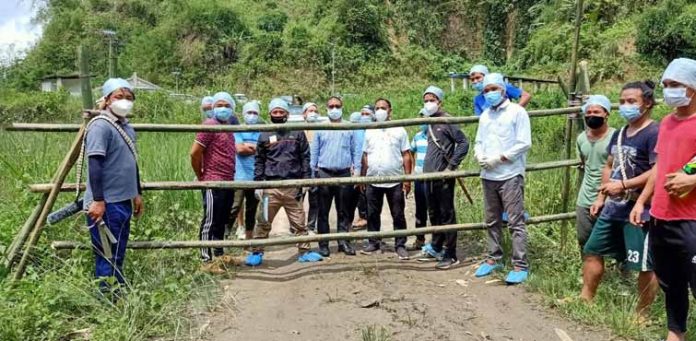 ITANAGAR, 27 May: Members of the All Nyishi Students' Union (ANSU), led by its president Nabam Dodum on Thursday constructed bamboo fencing around the Chimpu burial-cum-cremation ground to protect it from roaming domestic animals like mithuns and cows and wild animals.
Dodum said that the lone graveyard in the capital region does not have basic necessities like electricity and water supply. "There is no entrance gate, boundary wall, caretaker of the graveyard, and it does not even have any shed for cremation," the ANSU president said.
Lambasting the state government for its "negligence and carelessness" towards the development of the graveyard, the ANSU president demanded that the government sanction adequate fund for the development of the Chimpu graveyard.
Informing that the bamboo fencing was erected at the request of the capital region district administration, ANSU general secretary Gora Rikam Bhai appealed to the state government to acquire more land for the graveyard.
"There is no proper demarcation of boundary and even land of Chimpu graveyard is not sufficient," he said.
The ANSU further said that the electric crematorium is also half-constructed, and that it was constructed "without any planning." The union said it would approach the department concerned to enquire about the half-constructed crematorium after the lockdown is lifted.
ICR DIPRO adds: Itanagar Capital Region (ICR) Deputy Commissioner Talo Potom thanked the ANSU team for its voluntary service, and stressed that "development in any aspect needs a collaborative effort."
The DC also appealed to the residents of the capital region to stay at home and follow Covid-19 appropriate behaviour "as the war against Corona can only be won by the collaborative effort of everyone."
EAC Datum Gadi informed that the much-needed fencing has been built "with the team effort of capital district administration, corporator Lokam Anand and team of ANSU."