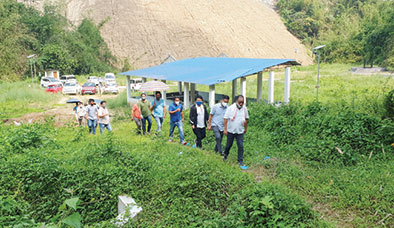 ITANAGAR, 29 May: Itanagar MLA Techi Kaso on Saturday claimed that the urban development (UD) minister has rejected the proposal for infrastructure development of the burial-cum-cremation ground in Chimpu, and informed that he will move the chief minister in the matter.
Speaking to the press, Kaso said that the burial-cum-cremation ground is a very important place as "it is the last destination of human life."
"I had bought the said land by spending a huge amount, with an intention to meet the needs of the people, who had raised the issue with me time and again.
 The development of the land was another issue, but we managed somehow, and a small portion of it was utilized. A plan and policy was put forward for its proper functioning with sufficient infrastructure development in the area, such as proper boundary wall/fencing, water and power supply, firewood provision, and other necessary items required for cremation and burial of bodies with respect," he said, adding that "the proposal was turned down and it was rejected by the urban development minister."
"Since the outbreak of Covid-19, the burial-cum-cremation ground has been utilized by the administration and the general masses. Such a place needs to be given priority, and I will take up the matter of infrastructure development of the burial and cremation ground with Chief Minister Pema Khandu," he said.
Meanwhile, Kaso lauded the All Nyishi Students' Union for conducting social service at the burial site and for distributing ration items to students and needy persons during the pandemic.