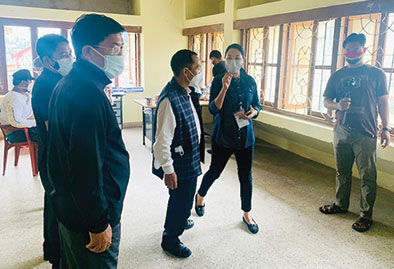 ITANAGAR, 1 Jun: The Itanagar capital region (ICR) district administration has eased the process of getting vaccination against Covid-19 by relaxing the compulsory online registration rule for the people in the age group of 18 to 44 years.
The people can now go to the vaccination centres and get vaccinated by simply registering themselves offline.
"People can get the vaccine either through online registration in the CoWIN portal or through direct registration at the vaccination centres offline," said ICR DC Talo Potom.
The DC called upon the citizens of the capital region to come forward and get vaccinated. He also informed that vaccination for those who are 45 years and above will continue as usual at all the vaccination centres.
"Vaccination is the only weapon to win the war against coronavirus, apart from following Covid-appropriate behaviour," Potom said.
"We are planning to carry out intensive vaccination drive during the remaining days of the lockdown. We will make every effort to vaccinate each and every individual, and then we will gradually move towards unlocking," he said, explaining the reason behind extending the lockdown till 7 June.
For the convenience of the people, he said, vaccination sessions will also be held at the Karsinga UPHC, TRIHMS, the Rajan UPHC at the old art & culture building, the Itafort UPHC, RKMH, the Chimpu PHC, PTC Banderdewa, Tago Memorial Hospital in Nirjuli and the Borum HWC/community hall.
The DC along with DMO Dr Mandip Perme visited the vaccination centres and interacted with the health workers. Potom also interacted with some beneficiaries and clarified doubts and misinformation around the anti-Covid vaccines.
Dr Perme briefed about the importance of vaccination to the public. Vaccination helps build immunity against the coronavirus, thereby reducing the risk of infection, he said.
"One can still become infected after being vaccinated, but once vaccinated, the severity is seen very less in the patients. As more of the population is vaccinated, it would contribute to community protection, reducing the likelihood of virus transmission," the DMO said.
He appealed to the people to not believe in preconceived notions about vaccines.
A total of 1,786 people in the age group of 18-44 years and 297 people in the age group of 45 years and above were vaccinated on Tuesday.
A total of 43,299 people have been vaccinated since its start on 16 January, out of which 7,638 have received the second doses. (DIPRO)