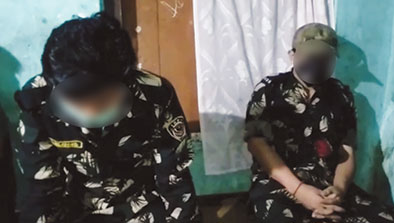 Staff Reporter
ITANAGAR, 1 Jun: The state police on Tuesday suspended two IRBn personnel, identified as Constables Gralong Ngadong and Joram Suraj, following their arrest by the Assam Police from Banderdewa on Monday for allegedly possessing heroin.
Disciplinary proceeding against the disgraced personnel has been initiated in connection with Bihpuria PS Case No 366/2021 u/s 22 (a)/22 (b) NDPS Act.
Suraj and Ngadong are personnel of the 3rd IRBn. Both were allegedly apprehended red-handed by the Assam Police at Banderdewa on Monday at around 4:30 pm, and are currently in police remand at the Bihpuria police station in Assam.
Pronouncing the suspension order, 3rd IRBn Commandant Rakesh K Bansal stated that, "under Sub-rule 3 (a) of Rule 20 of the APP (D&A) Rules, 1999, amended 2005, both Ct Gralong Ngadong, A Coy and Ct Joram Suraj, F Coy of 3rd IRBn BHQ Seijosa have been put under suspension from date of the arrest on 31 May, 2021."
Both the personnel have been directed to remain at the headquarters and not leave the headquarters without obtaining prior permission. The order further stated that, during the period of suspension, they are entitled to draw subsistence allowance at the admissible rate, as per Sub-rule 1 of Rule 24 of the APP (D&A) Rules, 1999, amended 2005.
Appalled by the reports of government employees, particularly police personnel, being involved in drug peddling and smuggling, the state government on Tuesday said stringent action would be taken against government employees who consume any narcotic drug or psychotropic substance.
Referring to the arrest of the two IRBn personnel, Chief Secretary Naresh Kumar in an order said: "Rule 22 of CCS (Conduct) Rules, 1964, contains provision that any government employee who consumes any narcotic drug or psychotropic substance, the disciplinary authorities should take very serious view and initiate disciplinary proceedings for such violations."
However, the chief secretary provided a one-time opportunity, upto 31 July, to government employees who are involved in consumption of banned narcotic drugs or psychotropic substances to report in writing to their respective controlling officers about their addiction, in order "to enable them to take remedial measures/treatment of such addiction at their own cost immediately."
The order stated that the government would provide such employees one-time immunity from prosecution and disciplinary proceedings. "However, on the expiry of the timeline, if any violation is detected, it (the government) will make errant employees liable for stringent action, including termination from government service," it said.