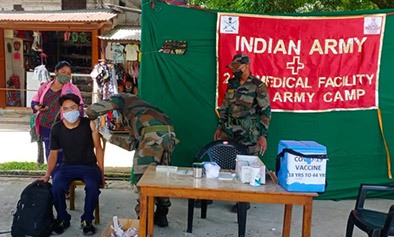 [ Pisi Zauing ]
MIAO, 16 Jun: To ensure that community transmission of Covid-19 is put to a halt, the Indian Army battalion based here in Changlang district has joined hands with the local administration and the health authority by organizing a three-day vaccination drive. The drive, which commenced on Wednesday, will continue till 18 June.
The medical team of the army camp here is assisting the CHC in ensuring 100 percent vaccination in Miao township and all villages.
Apart from the vaccination drive, the Miao battalion of the Indian Army has also offered to provide 24/7 healthcare services to the people.
Meanwhile, the United Miao Mission and its youth wing, the Miao Singpho Ramma Hpung, have jointly expressed gratitude to the battalion "for actively taking noble step towards attaining 100 percent vaccination in Miao subdivision."