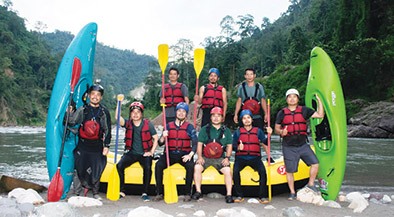 YINGKIONG, 16 Jun: Giving a major boost to adventure sports and tourism, a team of the Arunachal Pradesh Kayak and Canoe Association (APKCA) went on an expedition down the Yamne river in Upper Siang district recently.
The expedition began on 13 June from Gobuk village to the Yamne-Siang confluence at Ponging village, which is about 30 kms from East Siang HQ Pasighat.  The stretch is about 64 kms in length, unexplored and least known to the outside world, keeping the potentialities of the area hidden so far. The three-day expedition culminated on Tuesday.
It was the first ever expedition down the Yamne river, which roars down with great might and has "eddies, pillows, pullers, suicidal falls, holes, drops and numerous rapids ranging up to Class V and above, making it a heaven for kayakers and rafters alike," the APKCA said.
Reportedly, the team spent one whole night in a rescue mission after a kayaker went missing "at Sijon Hells of Door Rapid, following the kayak and the raft flipping in a major accident." The missing kayaker was later rescued in the wee hours. The whole expedition took three days and two nights.
The APKCA team acknowledged Tourism Director Abu Tayeng, Sports Authority of Arunachal Director Gumnya Karbak, the Upper Siang district police and the Yingkiong adventures officer for their constant support in making the expedition successful.
According to the APKCA, the Yamne river is one of the best rivers for kayaking, "like the Kaituna river in New Zealand, Sognefjord in western Norway, Saint Charles River in Quebec, Canada, etc."