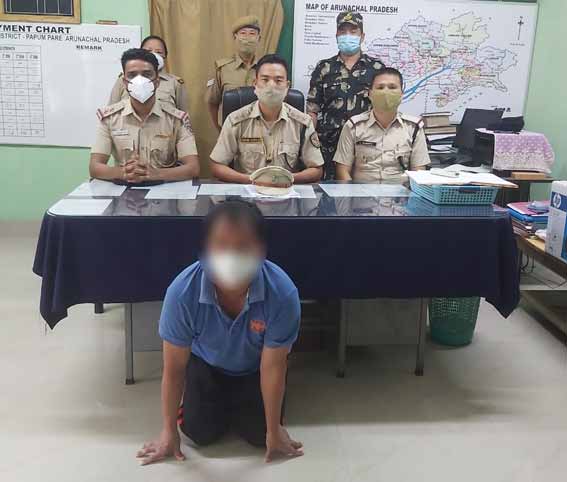 NAHARLAGUN, 17 Jun: The police here on Thursday arrested one Koj Sambiyo (35), of Dutta village in Lower Subansiri district, for the murder of one Debraj Singh @ Salamudidin, who used to work at the Spectrum Coaching Institute here, on 15 June.
According to the capital police, the Naharlagun police station received information at around 10:45 am regarding a murder which had occurred in Barapani. A police team led by SI SS Jha, OC K Yangfo and SDPO D Gumja, under the supervision of ICR SP Jimmy Chiram, rushed to the place of occurrence, which is around 100 metres from the national highway, in a kutcha house adjacent to a restaurant.
There, the police team found the dead body of Debraj Singh, who was in his late 50s, lying in a pool of blood on the floor.
"There were two cut marks, one on the neck, which probably was the reason of death, and the other on the stomach, which seems post-mortem in nature.
The intestines which were lying on the floor were tied up with a thread. It seems that after killing the person, the accused wanted to dispose of the body by chopping it into pieces but was overwhelmed midway and gave up," the police report stated.
The police added that the victim was originally a native of Odisha but had changed his religion and name after marrying a Muslim woman and later shifted to Laluk in Assam. His son, Rajib Ali, was informed about his death, and the body was handed over to the family for the last rites after postmortem. The deceased was the sole breadwinner of his family of five.
The police were able to arrest the accused, Koj Sambiyo, who had been hiding in the jungle near the place of the incident and was about to flee. Upon interrogation, the accused disclosed that he had murdered Singh @ Salamudidin, who used to work with him at the Spectrum Coaching Institute.
The police also recovered the murder weapon – a 44 cms long dao (machete) which had blood marks on it.
"On further investigation, it has been revealed that the deceased and the accused were close friends. The accused had called the deceased on 15 June for drinks, and after a late night filled with booze, attacked him with a machete, which led to his death. The motive of the crime is being investigated as neither there was enmity between the two nor the neighbours had heard them arguing with each other after getting drunk. It seems that there might be a romantic angle involved in the murder, which is being investigated," added the police report.
Meanwhile, a case (No 97/21 u/s 302 IPC) has been registered at the Naharlagun police station and investigation is on.