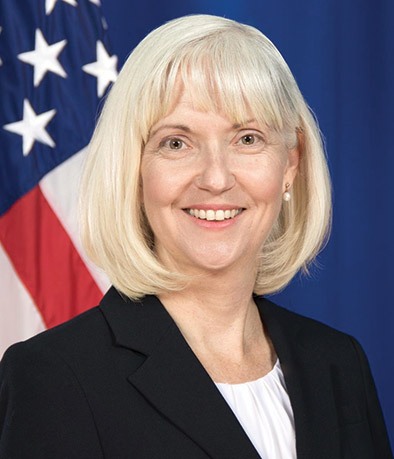 Patti Hoffman assumed the post of consul general of the United States of America for the Kolkata consular district on 3 August, 2018, under Donald Trump's administration. The Kolkata consular district includes West Bengal, Bihar, Jharkhand, Sikkim, and the seven Northeastern states.
Hoffman is leaving India in mid-July as her terms ended this July. She has travelled the length and breadth of Northeast India. In an email interview with Amar Sangno of The Arunachal Times, Hoffman shared the fond memories of the three years she spent in India, and her experiences in the Northeast.
The Arunachal Times: Tell us some personal anecdotes from the three years of your memorable service.
Patti Hoffman: The people I have met and the friendships I have made in east and Northeast India are my fondest memories, what made my tenure particularly special, and what I will miss most. In West Bengal, I loved participating in the Durga Puja festival, which is so vibrant and energetic. I also enjoyed trips to the Sundarbans to see the mangrove forests, Bishnupur for the wonderful terracotta temples, Santiniketan to learn more about Tagore, and Darjeeling for the mountains and tea estates. Fond memories from the other states in our consular district include taking my first ever helicopter ride to Arunachal Pradesh and participating in the Tawang Festival and touring the historic Tawang monastery; watching the dancers at the Sangai Festival in Manipur; drinking rice beer and eating fried worms in a tribal hut in Nagaland's Hornbill Festival; visiting the Rumtek monastery and Changu Lake in Sikkim; walking across the living roots bridges in Meghalaya; touring Neermahal palace in Tripura; cruising the Brahmaputra river in Assam; exploring the Bihar museum in Patna; canvassing the hilly city of Aizawl in Mizoram; and visiting manufacturing sites of American companies in Jharkhand.
AT: How is the US playing its role to assist India during the Covid-19 crisis?
PH: While the Covid-19 pandemic has been difficult for everyone, it also provides us an example of what strong partnerships can accomplish when working together. Just as India came to our aid when our own healthcare system was under tremendous strain last year, the US stands with India now. The USG rapidly deployed seven planeloads of lifesaving supplies to India during the recent second wave. These flights carried critical health supplies, including oxygen-related equipment, N95 masks, rapid diagnostic tests, and medicines like Remdesivir. The USG assistance amounted to about $100 million in commodities and technical assistance and the American people through the private sector donated an additional $400 million worth of assistance support.
Additionally, both the CDC and the USAID built upon more than 70 years of strong partnership with India counterparts on public health initiatives to provide training and technical assistance. Together, the CDC, the USAID and the Indian counterparts worked together to strengthen laboratories, disease surveillance and epidemiology, emergency responses, infection prevention and control, vaccine rollout, contact tracing procedures, and risk communications. They trained 10,000 frontline healthcare workers on safe sample collection, transport, and testing.
Also, on vaccines, the US International Development Finance Corporation (DFC) is expanding manufacturing of safe and effective Covid-19 vaccines with funding to Indian manufacturer Biological E Ltd to produce one billion doses by the end of 2022. President Biden has announced that the US will share 80 million doses of our vaccine supply with the world, will purchase an additional half billion doses of Pfizer to donate to nations in need, and at the recent G7 Summit made a commitment with G7 leaders to provide more than 1 billion additional doses for the world.  The USG is committed to ending the Covid-19 pandemic everywhere for our collective global health security.
AT: In the US-India strategic partnership, what are the important areas that, according to you, both nations need to work on?
PH: I have been impressed by the breadth, depth and complexity of the US-India relationship, which covers almost every issue imaginable. The US-India relationship has always enjoyed strong bipartisan support in the US, and in recognition of that has been designated as a comprehensive global strategic partnership. Recently, the Biden-Harris administration has continued to grow the relationship by expanding cooperation through the Quad to support a free, open and secure Indo-Pacific; enhancing collaboration on public health initiatives on Covid-19, tuberculosis, HIV/AIDS, antimicrobial resistance, and the global health security agenda; and reinvigorating coordination on the fight against climate change.
The US Consulate in Kolkata's priorities include combating human trafficking; empowering women, minorities and vulnerable groups; promoting economic prosperity and trade; and facilitating access to higher education in the United States.
Combatting trafficking-in-persons (TIP) is a top priority for us in eastern and Northeastern India. TIP is a complex and global problem and we worked through the consulate's signature annual anti-TIP conclaves to combat this scourge by convening stakeholders from multiple levels, including government, law enforcement, judiciary, NGOs, academia, sports, and schools. I am encouraged by the commitment of both our governments to work together on this issue.
We have also worked together to empower women entrepreneurs in east and Northeast India through multiple programmes, including a White House-led Academy of Women Entrepreneurs (AWE) project that supported more than 150 women in five states of Northeast India with online learning, mentorship, and networking opportunities to grow their businesses.
Our consulate has also supported LGBTQI+ communities in eastern and Northeastern India since 2017, providing a safe space for activists to discuss issues of concern to the community. The Biden-Harris administration has made human rights a priority issue and stands behind our efforts to strengthen LGBTQI+ networks and equip them with skills to find acceptance within the larger community. We supported targeted trainings for medical care workers, which led to the opening of eastern India's first transgender clinic at Peerless Hospital in Kolkata in February 2020. In March 2021, I travelled to Manipur to inaugurate a US Centres for Disease Control-supported transgender health and welfare centre and health desk in Imphal, implemented by I-Tech India and the Maruploi Foundation – the first of its kind in the Northeast. Our present activities aim to raise awareness and safeguard the rights and choices of LGBTQI+ communities and to support educational and training opportunities, as well as access to public spaces and employment.
AT: China continues to be an impediment to Northeast India's development, particularly for Arunachal Pradesh. What role should the US play to end this blockade?
PH: The United States recognizes the Indian state of Arunachal Pradesh as an integral part of India. This has been established US policy since the Kennedy administration, and we show Arunachal Pradesh as Indian territory on all official maps. We encourage India and China to utilize existing bilateral channels to discuss disputed boundaries.
AT: China is emerging a dominant player in the Indo-Pacific geopolitics. How should the US counter to ensure stable democracy in the region?
PH: Earlier this year, President Biden met virtually with his counterparts in the Quadrilateral Dialogue – the United States, India, Australia, and Japan – to coordinate in the Indo-Pacific, ensuring our collective commitment to ensuring peace, security, and prosperity in the region. The Quad grouping was established to showcase what democracies can deliver together, for our own populations and the wider world. Quad members are uniquely positioned to help lead the region out of deep crisis and towards the more positive vision we all seek. How the United States and our partners in Asia work together to secure the peace, defend our shared values, and advance our prosperity across a free and open Indo-Pacific will be among the most consequential efforts we undertake in the 21st century. The Quad will continue to advance coordination on development assistance, post-pandemic economic recovery and climate change, as well as the promotion of human rights, democracy, and rule of law issues throughout the Indo-Pacific. The Quad will also work to address disinformation campaigns, transnational threats, and humanitarian disaster response.
AT: The Ledo road, also called the Stillwell Road, was built in 1942 by the Allied force, connecting India and Burma. Do you think the US should assist in restoring this road?
PH: While I don't have a comment on that particular project, I will say that connectivity and infrastructure development is a priority in the Northeast. There is a growing consensus among the various stakeholders of the global economy that new infrastructure projects must be developed with a strong commitment to longevity, sustainability, transparency, and fiscal accountability. To that end, the United States supports the Blue Dot Network (BDN) as a branding and certification mechanism to distinguish infrastructure projects that meet international quality standards. The BDN was launched as a multilateral effort to promote sustainable, high quality, private sector-led infrastructure development around the world.
AT: India has the Look East/Act East Policy for its Northeastern states. Since you have travelled extensively in this region, which should India focus on?
PH: India is a leader in the Indo-Pacific region. The Quadrilateral Dialogue – 'the Quad' – is an essential multilateral mechanism that convenes four likeminded democracies – the United States, India, Australia, and Japan – to coordinate in the Indo-Pacific, ensuring our collective commitment to ensuring peace, security, and prosperity in the region.
We will work with our partners, including India, to continue to advance coordination on development assistance, post-pandemic economic recovery and climate change, as well as the promotion of human rights, democracy, and rule of law issues throughout the Indo-Pacific.  The Quad will also work to address disinformation campaigns, transnational threats, and humanitarian disaster response.
Northeast India is a strategically and geopolitically significant region and will play a pivotal role in India's Act East Policy and in the stability of this region.
Northeast India is home to one of India's two US ambassador's fund for cultural preservation projects. The project in the Northeast will document the ancient cultural traditions of 17 indigenous communities in Arunachal Pradesh and Manipur. Dovetailing with efforts by the government of Arunachal Pradesh, the project will develop sustainable and responsible tourism in the region by both promoting and safeguarding indigenous culture. We are excited that the project will serve as a living example of the US-India partnership in strengthening indigenous cultural heritage as a means to strengthen sustainable development in the region.