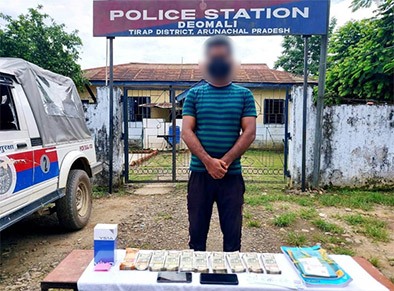 DEOMALI, 12 Jul: The Tirap police and personnel of the Assam Rifles (AR) apprehended a person with Rs 4.28 lakhs extortion money which was supposed to be delivered to an insurgent group.
The person, identified as Krishna Barman (41), from Assam's Dibrugarh district, was apprehended from Deomali in Tirap district while he was on his way to deliver the extortion money to the insurgent group, the police said.
The police said that 'mobile check posts' were established at all the entry points into the district after receiving specific input that a staffer of a road construction company based in Natun Kheti village was bringing a huge amount of money to deliver to insurgents.
A joint team of the police and the AR intercepted a car (AR-18-3011) on the intervening night of 11 and 12 July and apprehended the person.
The police said they found the amount and a smartphone from Barman's bag while searching the vehicle.
During interrogation, it was revealed that the apprehended person worked as 'site in-charge-cum-manager' of M/s ATW India Pvt Ltd, a road construction company based in Natun Kheti village in Tirap district.
Barman further revealed that members of the NSCN (KYA) had been demanding a mobile phone and money for many days, and he had come back to deliver them to the insurgent group.
The messages stored in Barman's phone established that he had been in contact with the insurgents for many days and had delivered money and other logistic support to the insurgents earlier too.
The police have launched an investigation after registering an extortion case at the Deomali police station. (DIPRO)