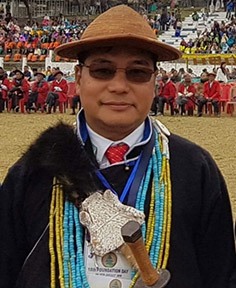 AALO, 14 Jul: Late PHE executive engineer Kirba Sora was laid to rest at his Yodi Momen Residence on 12 July, wherein several community-based organisations paid their tributes.
Sora, who was also the Galo Welfare Society (GWS), West Siang unit president, breathed his last at the Apollo Hospital in Guwahati, Assam after a prolonged illness.
The GWS, GPF, BAWS, RWS, KKWS Aalo unit and various wings of the GWS hailed him as a dedicated government employee, who served in several capacities during his service life.
Late Sora joined as a JE in the RWD in 1993 and served as the PHE EE of Aalo till his passing.
A social worker of the Galo community, Sora was also the vice chairman of the Galo Language Development Committee from 2016.
He is survived by his wives, five daughters and three sons.
"In his demise, the Galo community has lost a true stalwart, a social worker, a philosopher and a guiding light, whose enormous contributions in developing the Galo society will always be cherished and remembered. The void created by his untimely demise will be difficult to fill up," the societies said and prayed for eternal peace of the departed soul. (DIPRO)