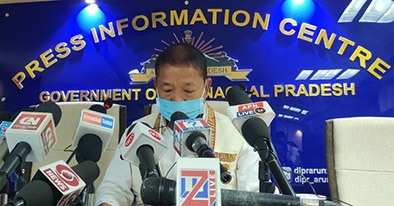 Staff Reporter
ITANAGAR, 19 Jul: Home Minister Bamang Felix on Monday said that Kimin has been and will always be an integral part of Arunachal, and that the BRO will initiate an inquiry into the Kimin episode.
His statement came following a major reaction in the state after BRO officials covered up the names of Kimin and Arunachal during a recent BRO event which was attended by Defence Minister Rajnath Singh.
Felix made the statement during a press briefing at the press information centre of the civil secretariat here, following a meeting with Border Roads Organization (BRO) Director General (DG), Lt Gen Rajeev Chaudhary, on Monday morning.
Informing that the meeting resulted in a five-point resolution, the home minister informed that the BRO would initiate an inquiry into the Kimin episode and fix responsibility, and would complete the proceedings without any delay.
Based on the findings of the inquiry committee formed by the government, it was concluded that a few BRO officials were responsible for the mess, and that suitable and appropriate actions would be taken against them, he added.
"In order to ensure fair inquiry, the BRO officers and officials concerned will be transferred to other locations. So far, three of the BRO's senior officers have been posted to other locations for a fair investigation," Felix said.
He appealed to the public to put the issue to rest, and said that all the matters concerning the Kimin issue are being taken care of.
"The DG said that Kimin was always a part of Arunachal Pradesh and shall always remain so. On recommendation, the DG also agreed to relocate the storage of explosive materials for safety reasons," he said.
During the meeting, Chief Secretary Naresh Kumar briefed the DG on the findings and recommendations of the high-level committee (HLC) headed by the home minister, and the fact-finding committee (FFC) constituted by the Arunachal Indigenous Tribes Forum (AITF).
Chief Minister Pema Khandu had constituted the HLC to look into the matter, while the FFC was formed by the AITF for the same purpose. Both the committees found that officials of the BRO were responsible for the Kimin episode, and recommended strict action against the erring officers.
Among others, Home Principal Secretary Rajeev Verma and Commissioner to CM Sonam Chombay attended the press briefing.