[ Tongam Rina ]
ITANAGAR, 19 Jul: The state government turned down the health department's suggestion to put the Itanagar capital region (ICR) under lockdown for 14 days.
Officials say that the health department was instead asked to focus on micro-containment zones.
The suggestion was made during a meeting of the Arunachal Pradesh Disaster Management Authority to review the Covid situation last Friday, which was attended by Chief Minister Pema Khandu and his cabinet, besides Chief Secretary Naresh Kumar.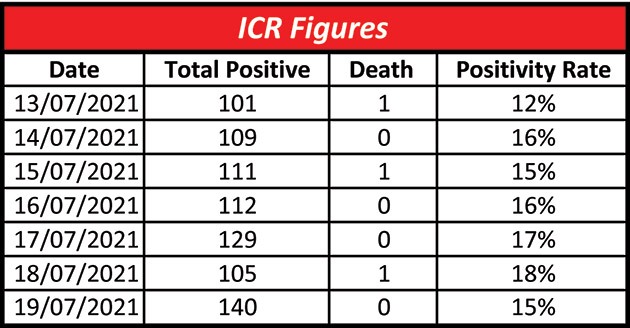 The government's decision came even as the positivity rate in the capital is consistently on the rise for the last one week, with the highest being 18 percent on Sunday (see table), and implementation of the micro-containment order is nonexistent.
According to an order issued by the ICR deputy commissioner on 13 July, 15 locations spread across the region were declared as micro-containment zones (see order).
The order stated that "No unauthorized persons shall be allowed to enter or exit from the above areas without prior approval from the undersigned or DMO/DSO, ICR. The movement of people for supply of essential items and other emergency services shall be regulated and police/security guard shall be deployed by the ICR SP to regulate the movement."
However, the order has remained only on paper as it is not being implemented, and there is no restriction whatsoever on movement or opening of commercial establishments.
Even the 6 pm to 5 am curfew is not being followed as traffic, although thinner than on ordinary days, continues to flow uninterrupted.
Health officials say that it's not possible to enforce micro-containment zones in the ICR and other urban locations in the state because of the density of the population and there being no involvement of communities in enforcing it. Therefore the health department had suggested a complete lockdown.
According to figures released by the health department on Monday, there are 1,078 active cases and 88 patients in hospitals in the ICR. The recorded deaths in the ICR stands at 69 of the total 203 reported from across the state since the beginning of the pandemic in the state in March last year.
The seven days' (from 13-19 July) moving average  of the positivity rate in the ICR was 15.41 percent.