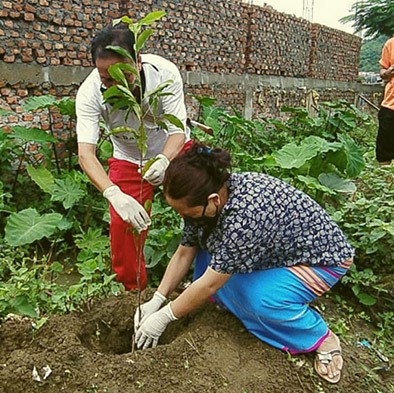 DAPORIJO, 19 Jul: The Daporijo Culture Society (DCS) on Monday conducted a 're-plantation drive' in Officers' Colony here in Upper Subansiri district, during which around 60 Bakul saplings were planted.
More than 500 trees had been planted under the 'Green Daporijo' programme during the tenure of Komkar Dulom as the Upper Subansiri DC five years ago, and many of the trees have not survived either due to lack of proper care or other reasons.
Bamboo fences have been erected around the newly planted saplings to ensure the growth and survival of the saplings.
The women of the colony also took part in the re-plantation drive, led by DCS chairman Dosh Dasi. The society procured the saplings using its own resources.
The women of Officers' Colony contributed some amount to the fund of 'Clean and Green Subansiri' as a token of appreciation.
Monday's plantation drive was the sixth in a series of plantation-related activities conducted by the society since last month.