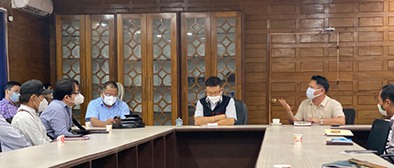 ROING, 20 Jul: Expressing concern over the rising Covid-19 positivity rate in Lower Dibang Valley (LDV) district, Deputy Commissioner KN Damo cautioned that the district administration would have no option but to recommend district-wide lockdown if the positivity rate continues to rise for a week or more.
Addressing a review meeting on the Covid-19 situation here on Tuesday, the DC said that it can be brought under control only when people follow Covid-appropriate behaviour, get vaccinated, and follow the containment measures.
Informing that the Covid-19 positivity rate was above 10 percent in the last three to four days, the DC directed all to ensure that all eligible people are vaccinated at the earliest. He also called for a head count of all the vaccinated people, and for tracing out the left-out people in order to get them vaccinated.
Damo instructed the health department to provide telephonic counselling to Covid-19 positive patients. He cautioned people travelling to neighbouring districts with higher Covid-19 positivity rates to be careful and maintain the SOPs.
SP JK Lego spoke about the problems being faced by the police in enforcing Covid-appropriate behaviour and curfew in the villages at night. He called for "community involvement in patrolling to enforce the Covid-19 SOPs."
DMO Dr R Tatan emphasized on testing, tracking, vaccination and adherence to the SOPs.
Encouraging one and all to get tested, he said, "It is imperative to remove the stigma surrounding Covid positive people, which would encourage people to come forward for testing," Dr Tatan said, adding that tracking by the department would result in detecting cases faster and in turn lead to control of the Covid situation.
HoDs and administrative officers attended the meeting. (DIPRO)