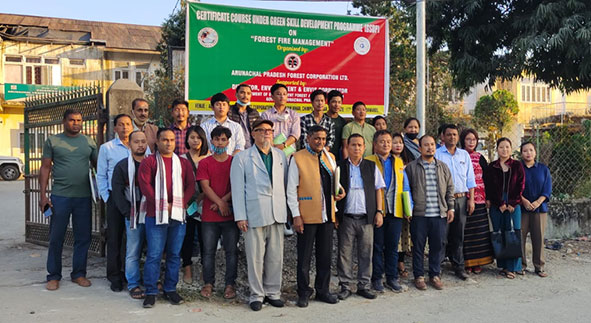 ITANAGAR, 17 Nov: A total of 15 people have been selected to undergo a certificate training course on forest fire management under the Department of Environment & Forest, with the guidance of the officers of Arunachal Pradesh Forest Corporation Ltd (APFCL).
Addressing a function here on Wednesday, North East Regional Institute of Science & Technology (NERIST) Professor Dr Binay Singh said "the time has come for people to work unitedly for the wellbeing of humanity by protecting forests, flora, fauna, and wildlife for the existence of humanity."
"In due course of time, we may have to face global warming and to avoid such a situation we have to start with the plantation of trees and maintain greenery so that the ecological balance is maintained," he said.
He requested the officers to take the selected person to various places where the government as well as a private party have worked in the field of conservation.
Director of Environment & Climate Change, Dohu Robin motivated the students to become role models for society and to learn to serve society. He said that the certificate course will help participants during the recruitment in the forest department, and they can also become consultants for villages, districts or the state in the protection of the environment and forests.
Conservator of Forest, T Gapak gave a brief on the length of the course and syllabus and explained the details of technical study. He urged  the candidates to learn properly and serve society.
Explaining about the course,  APFC Ltd general manager Dr G Murtem said that the APFC Ltd is organizing the training programme on fire management under the green skill development programme (GSDP) for 300 hours, which will start from 18 November onward for around one and half months. As part of the training, the students will also visit several forest projects, water conservation sites for case studies.
Trainers and experts from various institutions of the state, including those from the Department of Forest Research Institute, NERIST, Forest department, APFC Ltd, Van Vigyan Kendra and others will impart training on the subject.