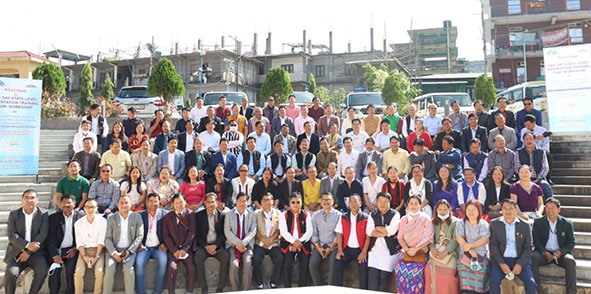 ITANAGAR, 17 Nov: The State Institute of Rural Development and Panchayati Raj (SIRD&PR) conducted a one-day state level orientation training programme on 'Orientation of Fund, Function and Functionaries (3Fs) to the Panchayati Raj Institution in Arunachal Pradesh' through SPICE Model at the  D K Convention Hall here on 16 November.
Secretary of PR&RD Amarnath Talwade, addressing the participants in the programme, informed that SPICE Model has been formulated especially in the context of Arunachal Pradesh. "SPICE Model is an excellent model for development if every stakeholder works in close coordination," Talwade said.
He also briefed about the background of evolution of Panchayati Raj in the state  and  made a presentation on constitutional provision, devolution formula, planning and implementation of power devolution to the PRIs as prescribed in the SPICE Model.
Earlier,  director of SIRD&PR, Habung Lampung apprised the participants of  various targets and timelines set by SIRD&PR to train Panchayati Raj leaders and functionaries in the district and block levels.
Sikkim SIRD Director Vishal Mukhiya  gave  a power-point presentation on Sikkim model of power devolution, and its relevance in Arunachal Pradesh.
Hyderabad based NIRD&PR  professor Dr A K Banja gave a presentation on concept of integrated convergence GPDP and DPDP while complying with the sustainable development goal.
Sr. Faculty of  SIRD&PR, Dr Likha Kiran Kabak gave a presentation on concept of capacity building and training to the PRIs and other stakeholders through campaign mode, while SIRD &PR faculty S W Bagang gave a presentation on 'activity mapping and resource devolved to the PRI from all stakeholders'.
SIRD&PR faculty Mihin Lali presented various  roles and responsibilities of prime stakeholders, like MLAs, ZPCs, heads of department, member secretaries etc.
Around 120 participants, including ministers, MLAs, ZPCs, secretaries, chief engineers, directors, member secretaries and DPDOs attended the programme and expressed their views.