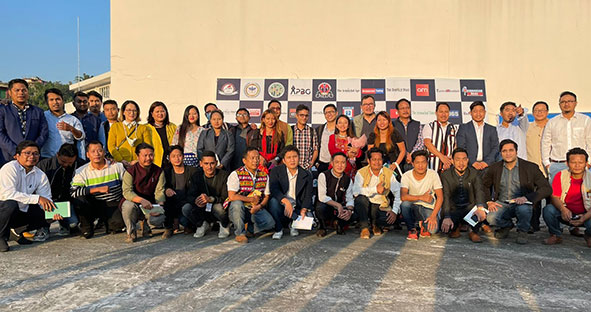 Wangsu asks media community to focus on govt schemes  for proper implementation
ITANAGAR, 17 Nov:  The National Press Day (NPD) was observed by the state media fraternity to acknowledge and honor the Press Council of India, a statutory establishment at the WRD conference hall here on Tuesday.
The NPD was organized by the Arunachal Press Club (APC), in collaboration with the Department of Information & Public Relation (DIPR), and supported by the Arunachal Pradesh Union of Working Journalists (APUWJ), Arunachal Electronic & Digital Media Association (AEDMA) and Arunachal Publishers & Broadcasters Guild (APBG).
Speaking on occasion, Kanubari MLA and former Dawnlit Post editor Gabriel D Wangsu stressed on the role and responsibilities of a strong and vigilant media to make democracy vibrant.
Urging the journalist community to serve selflessly, Gabriel said, "A journalist doesn't belong to any community or religion. A journalist is for everyone, for the nation and the state".
He further asked the media community to step up in its reporting and focus on government policies and schemes, to ensure the polices are implemented properly.
 "The government's intention is always positive, however, because of few vested interest officers, the schemes and policies are sometimes not implemented properly," he stated, asking the journalist community to be vigilant by using RTI to dig out the truth.
In his addres, Chief Executive Officer Smart City Itanagar and former journalist, Dahey Sangno reminded of media ethics and instinct to be a true journalist.
The CEO raised concern about degrading journalism quality in the state.  "Journalism in Arunachal is sub-standard now, with poor news presentation and lack of in-depth reporting," he said, adding: "The reporters should look into their approach to the news content. There should be in-depth research and a good presentation. Avoid unwitting endorsement of wrong language and avoid sensational news."
On the roles and responsibilities of media, he said "If we astray from this profession, the country is in great danger. People look up to us and we need to be careful"
Emphasizing on the quality of journalism and reporting in the state, APUWJ president Amar Sangno said that reporting has taken a nose-dive ever since the explosion of social media.
He said "copy-paste journalism, prioritizing paid news and unverified and biased reporting are dominant contents of almost all media houses, especially on digital platforms."
"The basic tenets like gathering and disseminating unbiased information to the masses, to become a voice for the voiceless without fear and favors is what makes journalism a noble profession," Sangno said, while appealing to fellow comrades to help in upholding the highest standards of journalism in Arunachal.
Sangno also stressed that the APWUJ is for the welfare and safety of working journalists, and the meagre wages, delayed salaries and deprivation of basic incentives and facilities are the major causes for paradigm shift among journalists.
He appealed to the media owners not to deprive working journalists of their basic rights. Likewise, female journalists should also not be deprived of basic rights like maternity leaves, and other related issues.
Arunachal Publishers and Broadcasters Guild president Chopa Cheda drew the attention of media bodies towards mushrooming and unregulated media organizations on digital platforms in the state.
Cheda opined that the growing number of unauthentic media houses and overnight journalists is the reason for declining of media image in Arunachal and urged media bodies to look into the matter.
Additional PRO to CM and former Echo of Arunachal Associate Editor Rup Jyoti Pater opined that mushrooming of media organizations could be taken in a positive way.
"However, the journalists who are into content creation have to have self-constraint and follow a set of principles and journalistic ethics. Journalism is a passion. A journalist who does not have the zeal and passion for journalism, should not join the profession, " he said.
To mark the NPD, a workshop was also organised on the theme, 'New media journalism in the present era: challenges, lessons & future.'  Speaking on the theme, special guest Pradip Phanjoubam said, "The business  section and news sections should function separately in a media organisation to maintain quality journalism."
Resource person Soumyadip Choudhury dwelled on challenges of media and digital media.
Earlier, Arunachal Press Club president Dodum Yangfo highlighted the objective of this year's NPD theme and informed that workshop was for the young journalists.
Chief Minister Arogya Arunachal Yojana (CMAAY) Nodal Officer Dr Nabam Peter also made a presentation on the CMAAY and offered registration exclusively to working journalists.