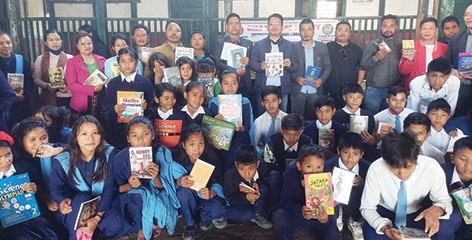 ITANAGAR, 9 Dec: The Galo Welfare Society (GWS) under the GWS Library Movement (GWSLM) initiative donated books for the libraries of five government higher secondary and 10 secondary schools in West Siang district to inculcate the reading habit among the students.
Books were donated to Aalo, Nehru Memorial (Puak Ghat), Kamba, Liromoba and
Yomcha higher secondary schools and New Market, Aalo, Dego, Pakam, Darka, Bagra, Kombo, Nikte, PI Colony, Pobdi and Darak secondary schools, in association with the Galo Students' Union (GSU), the Kardu Kardi Students' Union and the Pushi Bango Students' Union.
The distribution team included GWSLM member secretary Binga Gara, GWS vice president Dr Rime Ngulom Potom, GWSWSDU president Meddak Lona, GWSWSDU general secretary Duggum Ado and GSU vice president Jumdak Taso.