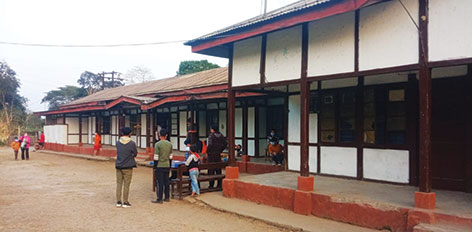 Staff Reporter
BANDERDEWA, 10 Jan: The Police Training Centre (PTC) Vivekananda Kendra Vidyalaya (VKV) boarding school here has been declared as a micro-containment zone after 37 Covid positive cases were detected in the school premises on Monday.
As per a notification issued by the ICR DMO, the school tested 106 staffers and students, out of whom 37 were found to be positive for Covid-19. Following this, the ICR DC declared the VKV as a micro-containment zone for 14 days from Monday onwards.
The DMO has been directed to immediately collect samples of the primary and secondary contacts for Covid-19 tests and prohibit entry, exit and gathering of unauthorized persons in the area without prior approval from the DC, the DMO, or the DSO.
Police or security guards will be deployed by the SP to regulate the movement of people for supply of essential items and other emergency services.
The DMO will also deploy staff to oversee the immediate medical needs of the inmates.
The administrative officers concerned will provide essential items required by the inmates by coordinating with shopkeepers and home delivery firms.