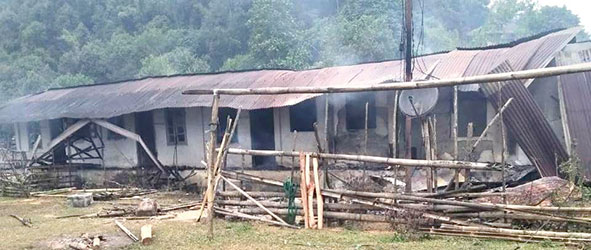 AALO, 11 Jan: Five teachers' bachelor barracks were destroyed in a massive fire that broke out in the vicinity of the secondary school in Nikte in West Siang district at around 3:30 to 4 am on Tuesday.
All properties and a 12 bore SBBL gun were burnt in the inferno.
West Siang DDSE Duken Kato, accompanied by executive members of the district unit of the Arunachal Teachers' Association (ATA), rushed to the spot to take stock of the situation.
The DDSE donated Rs 10,000 to each affected family as immediate relief, and the ATA, headed by its district president Mardo Bogo and secretary Kejum Rime, donated Rs 5,000 each to the affected families as immediate relief.
Ubu ZPM Genya Ori also arrived and took stock of the situation.
The affected families are now taking shelter in temporary houses.
The cause of the fire is not known yet, but no human casualty was reported. (DIPRO)