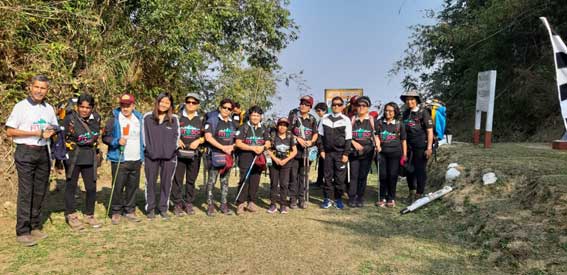 CHANGLANG, 12 Mar: A 'Fit 50+ Women's Trans-Himalayan Expedition', under the leadership of mountaineer Bachendri Pal, was flagged off from Pangsau Pass on the Indo-Myanmar international border on Saturday.
The team of 12 women and three crew members will begin the expedition from Pangsau Pass in Changlang district and finish at Tiger Hill in Kargil, covering a distance of 4,977 kms.
Jairampur ADC Ibom Tao, 19 Assam Rifles Colonel Mohit Verma and Jairampur CO Atu Yekar were present at the flagging-off ceremony.
Sixty-eight-year-old team leader Bachendri Pal is also the first Indian woman to have scaled Mount Everest in 1984, while 55-year-old Chetna Sahoo is the vice leader.
Vasumathi Srinivasan (68), Shammala Padmanabhan (65), Gangoti Soneji (63) and Chaula Jagirdar (64) are also in the expedition team.
The team attended an awareness campaign on drug abuse at Nampong as part of the Nasha Mukt Bharat Abhiyan, organised by the Changlang district administration, in order to encourage the young people to remain fit and healthy. (DIPRO)