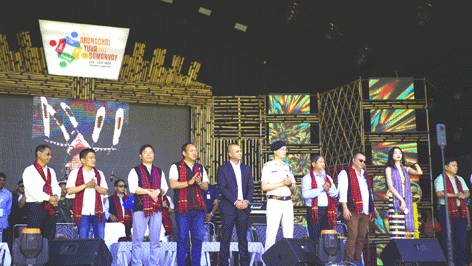 JAIRAMPUR, 6 May: Youth Affairs & Sports Minister Mama Natung inaugurated the 'Yuva Samanvay 2021-22' at the Setong Sena stadium here in Changlang district, in the presence of MLA Laisam Simai and others, on Friday.
"The objective of the event is to foster the spirit of unity and brotherhood among all the tribes of the state and provide a platform to know one another better through interaction and cultural exchange             programmes," said Youth Affairs Director Ramesh Linggi.
Representatives and delegates of 26 major tribes of Arunachal are participating in the four-day event, during which various activities, including adventure and recreational, besides cultural performances, talent hunt, workshop, painting, etc, will be organised, Linggi said.
The NYKS, NSS volunteers and youth members of the AVBP are also participating in it.
Former Miss Arunachal Roshni Dada attended the inaugural function as 'influencer'.
The Jairampur ADC, the Mohanbari DRC, the sports director, the Changlang SP, and the ZPMs attended the function.