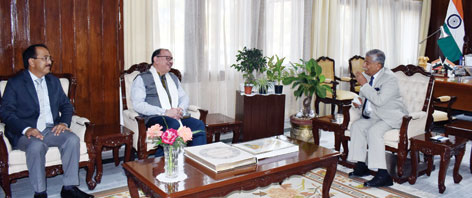 ITANAGAR, 7 May: Governor BD Mishra stated that he has been pursuing the matter of establishing an independent high court (HC) for Arunachal Pradesh.
He said this while interacting with Gauhati HC Judge Kalyan Rai Surana and the HC's Itanagar Permanent Bench Judge Robin Phukan at the Raj Bhavan here on Saturday.
The governor, who is also a law luminary, shared his observations of the legal system in the state with the judges. "Government officials must be thorough and perceptive when reaching out to courts for judicial remedies and resolutions," he said.
Mishra and the judges also shared their experiences and thoughts about the judicial system, and discussed the most up-to-date procedures and ways to expedite dispensation of justice. (Raj Bhavan)