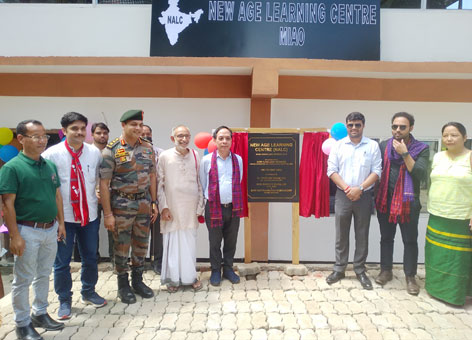 [ Pisi Zauing ]
Miao, 8 May: Local MLA and Urban Development Minister Kamlung Mossang dedicated a series of public utility assets to the people on Saturday, in the presence of Changlang DC Devansh Yadav, Miao ADC Sunny K Singh, Changlang ADC Arjun Mohan and ZPMs of Miao, Namphai and Kharsang.
The day started with the inauguration of a 'music studio-cum-jam pad' at the Kendriya Vidyalaya in Upper Miao, followed by inauguration of the Namdapha Nursing Institute at the Namdapha Degree College.
Other assets which were inaugurated include a state-of-the-art park called Orchid Triangle in Miao bazaar, a decorative streetlight and CCTV, a canteen at the ADC office, a library called New Age Learning Centre, and the newly renovated conference hall.
Addressing the gathering, Mossang attributed the success of creating the public assets within a span of a few months
to the DC and the ADC, and expressed hope that the assets would be "maintained to perfection and utilised for good."
The DC and the ADC expressed gratitude to the minister for making funds available on time for creating the assets.
Padma Shri awardee Satyanarayan Mundayoor, Bordumsa MLA Shomlung Mossang and Rajput Regiment Commandant Col Vivek Anand were also present at the inauguration of the library and the nursing institute.