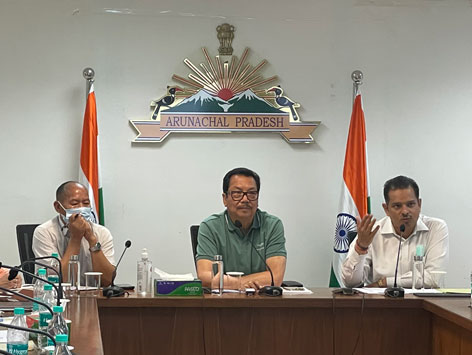 ITANAGAR, 9 May: Deputy Chief Minister Chowna Mein has asked the government departments to take up pension cases on priority and clear such cases without delay, in the interest of retired government employees, particularly Groups C and D retirees.
"They (the retired employees) should not be allowed to suffer and run from pillar to post in the government offices after having served the state government for more than 30 years," Mein said during a meeting with all heads of departments (HoD) at the civil secretariat here on Monday.
He asked all the departments to open a 'pension cell' and "place a dedicated and experienced staff specifically to deal with pension cases."
The DCM directed the HoDs to clear all pending cases related to pension by 31 May. Further, the HoDs were asked to "communicate the name of nodal officers to the directorate of audit & pension within 15 days."
It was decided during the meeting to "address and send the registered pension papers to the heads of the departments with a copy to the concerned heads of offices to raise the level of attention," according to a release from the DCM's PR cell.
Audit & Pension Director K Ronya informed that 398 pension cases are pending in the department, and that the delay in clearing the pension cases is caused by "non-submission of completed pension papers by the departments, improper fixation of pay scale in accordance with the promotion, pay enhancements and increments, etc, of an employee by the departments concerned."
He requested the HoDs to "send for initial pay statement check in every regular interval and clear all the pension papers before 4-6 months of retirement of an employee."
Ronya added that the pension matters "can be cleared by the directorate within two months of a person's retirement, provided all the pension papers of an employee are submitted by the department concerned."
An online presentation on Bhavishya – a pension sanction and payment tracking system – was made by TD/NCC Anil Bansal and Deepak Shirahatti.
Principal Finance Secretary Sharat Chauhan and Finance Secretary YW Ringu also spoke.
Among others, the PCCF, secretaries, chief engineers, and directors of all the departments participated in the meeting.