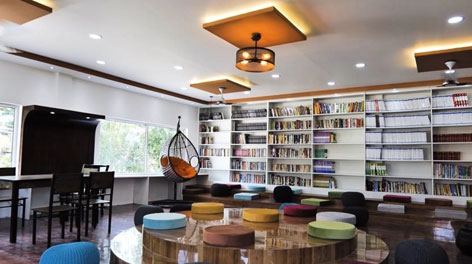 Staff Reporter
MIAO, 9 May: A state-of-the-art library named New Age Learning Centre (NALC) was established here in Changlang district recently with the aim of promoting the reading habit among the youths and children here.
Local MLA and UD Minister Kamlung Mossang inaugurated the NALC last Saturday.
A brainchild of Miao ADC Sunny K Singh, the NALC has all genres of books and e-books, besides smart screens and tablets, coupled with free wi-fi.
It also has a futuristic design, with comfortable space and air conditioning.
Giving details of the project, the ADC said, "I started this project without fund in crowdfunding mode. The BRO Udayak supported a little bit, then panchayat and other social workers came forward and contributed their bit."
The ADC added that, following their efforts, the UD minister pursued the matter with the state government and had funds sanctioned for the project.
"We are going to extend this library further by utilising the fund," the ADC said. He informed that the state library department has also consented to provide books worth Rs 5 lakhs to the NALC.
"It's like essence of library, cafe and smart, futuristic and interactive space interwoven together to achieve NALC in its present shape. The idea of NALC is to provide an impetus to dying reading habits amongst the youths, considering the fact that libraries are getting redundant in the present era of e-books, information overload on worldwide web."
"This initiative is to provide an attractive alternative to youths who found traditional libraries as boring, clichéd and outdated in the form of New Age Learning Centre, which intends to incorporate futuristic design based on aspirations of youths to make it relevant for the present as well as future generations. In a nutshell, NALC promotes smart and fun learning experiences for the readers," the ADC informed.
He further said that the other idea behind establishing the NALC is to enable the children and youths from economically weaker sections, who do not have comfortable reading space at home, to come and study the books of their choice, as well as enjoy the comfort and smart features of the NALC.
"The whole range of books, starting from children's section, fiction, non-fiction, academic, competitive books, biographies, autobiographies and motivational books, to quote a few, will be catering to the needs of all sections of society who wanted to read before but could not afford to read. The NALC is a paradise for all the book lovers and it intends to promote the reading culture in the subdivision," added Singh.