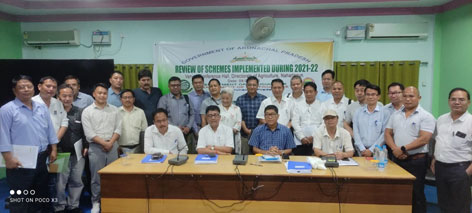 Central funding for depts reviewed
NAHARLAGUN, 9 May: Agriculture minister Tage Taki said that his department will soon meet with bank officials to make loans easily accessible for farmers.
"We are going to interact with the bank officials soon and will discuss the issue with the banks and will request them to provide help to the farmers," he said while talking to reporters after a meeting with officials of the agriculture and horticulture departments at the agriculture directorate here on Monday to review the state and central funding for the year 2020-21.
Horticulture & agriculture adviser Gabriel D Wangsu and Agriculture Secretary Bidol Tayeng, among other senior officials of the department, attended the meeting.
Taki further said that, during the meeting, the departments reviewed the performance of last year's Atmanirbhar Bagwani Yojana and Atmanirbhar Krishi Yojana, and are going to implement this year's budget proposal with slight modifications.
He said that officials from all the districts participated in the meeting and submitted their performance reports.
Commending the officials, Taki said that "there is certain lacuna but overall performance is satisfactory."
"We also discussed and suggested to do better as compared to last year's performances," he added.