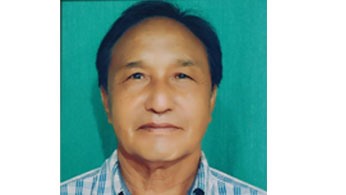 Correspondent
PASIGHAT, 11 May: Legendary singer and radio artiste Talut Mize died in a private hospital in              New Delhi after prolonged illness on Wednesday morning.
The sexagenarian singer Mize is survived by his wife, two daughters and a son.
Mize, who revolutionized Adi modern songs, was a native of Mirku-Daapi village of Pasighat in East Siang district.
Late Mize was not only a singer but also a composer and lyricist. He modernized Adi songs and made them very popular in the state.
Mo:teng amoloko, Tani takam e ludokom, Yenam em yeyin tobong, Pedong ota oma are some of his very popular songs. He wrote the lyrics of these songs.
Young Adi artiste and chairman of Karpung Kardung Folk Music Academy, Delong Padung has deeply mourned the demise of Talut Mize, saying that young artistes of the state will always follow his path in the field of music.
"Late Mize has changed the trend of Adi modern song and his demise is an irreparable loss of the Adi society as well as the entire state," artiste Padung stated.
Meanwhile, Adi Ba:ne Kebang president Tadum Libang expressed deep shock and grief  over the death of the legendary singer and composer Talut Mize.Mize was an exceptionally talented person who has inspired the generations of singers and musicians within Adi community, Libang said and added that Mize will always remain immortal as long as his songs live in the hearts of Adi community.