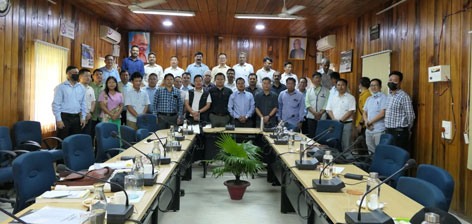 ITANAGAR, May 11: A two-day training on 'Enhancing Capacities of Forest Officials in Combating Wildlife Crimes in Arunachal Pradesh' which began on Tuesday last concluded at the PCCF office, department of environment, forests & climate change here on Wednesday. The participants were range forest officers and forest field staff from all the forest divisions in the state.
Speaking during the event, PCCF R.K Singh highlighted the importance of wildlife crime investigation for successful conviction in wildlife cases and a thorough understanding of procedures to be followed during the investigation.
During the workshop, several crucial issues related to wildlife crime investigation like legal procedures, identification and seizure of wildlife material, court procedures etc. were dealt with in detail with clarifications of doubts from all participants.
A session on the seizure of materials and mock court proceedings was also conducted to apprise participants of real-life situations faced during the course of the investigation and court proceedings.
The programme was conducted in association with the international NGO TRAFFIC India and Wildlife Crime Control Bureau (WCCB), East Zone. The resource persons included Merwyn Fernandes of NGO TRAFFIC India, deputydirector WCCB East Zone Agni Mitra, WII and forensic expert CP Sharma.