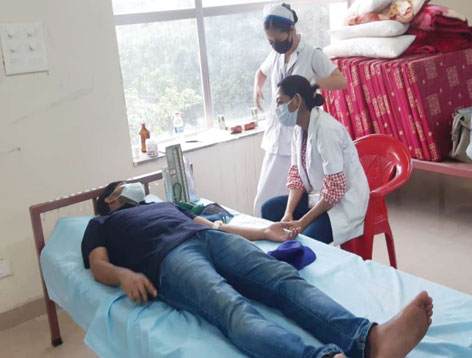 NIRJULI, 14 May: The NSS cell of the NERIST, in collaboration with the Tomo Riba Institute of Health & Medical Sciences (TRIHMS), organised a voluntary blood donation camp at the NERIST health unit on Saturday, during which 42 units of blood were collected.
Sixty volunteers turned up for the camp.
TRIHMS blood bank officer Dr Tashi Paleng and State Blood Transfusion Council Deputy Director Dr Joram Khopey also attended the camp.
Dr Khopey briefed about the benefits, and the dos and don'ts of blood donation. He motivated the young donors to donate blood without any hesitation.
"Frequent, smaller blood donation camps are useful than larger blood donation camps as the shelf life of blood is 35 days from the day of donation," he informed.
The Zion Institute of Nursing here provided nursing support during the camp, the institute's NSS cell coordinator (in-charge) Dr P Devachandra Singh informed in a release.