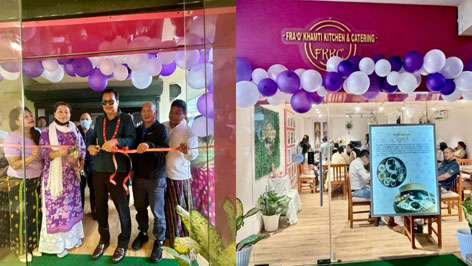 ITANAGAR, 14 May: Deputy Chief Minister Chowna Mein, along with the power minister's adviser Balo Raja and land management adviser Jummum Ete Deori inaugurated a Tai Khamti restaurant named 'Fra 'O' Khampti Kitchen & Catering', located on the first floor of the Himalayan Commercial Building here on Saturday.
Mein expressed elation over many women entrepreneurs coming up with their startups, entrepreneurship, and businesses across the state.
"Our women are taking the lead by selling our finished products of handlooms and handicrafts and local vegetables and food products through SHGs, or by opening shops and restaurants," he said, adding that "we encourage such initiatives by women and we are moving towards women empowerment."
The DCM said that efforts are on to "make our educated youths from job seekers to job providers and towards this end the government has taken initiatives by providing skill training and handholding the entrepreneurs through innovation and investment parks."
He also informed that the government is implementing schemes such as the Deen Dayal Upadhyay Swalambhan Yojana, the CM's District Innovation Scheme and various schemes under the Atmanirbhar Yojana in the agriculture and allied sectors "for uplifting the rural economy and making our people self-reliant."
The restaurant, owned by Nang Khalina Longchat, will exclusively serve and cater Tai Khamti cuisines.
Among others, Finance Secretary YW Ringu, UD & Housing Secretary Mithali Namchoom, and entrepreneurs Taba Yal, Toko Prakash and Likha Maj were present on the occasion. (DCM's PR Cell)