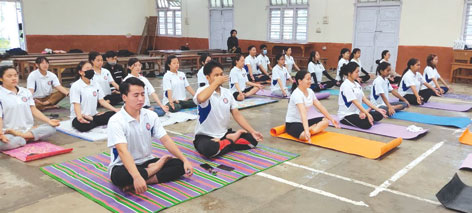 ITANAGAR, 14 May: The state unit of the Nehru Yuva Kendra Sangathan organised camps on 'common yoga protocol' in various districts of the state on Saturday as part of the Yoga Mahotsav-2022 campaign launched by the union AYUSH ministry.
The event also marked the countdown to the International Day of Yoga, which is celebrated every year on 21 June.
In East Kameng HQ Seppa, yoga instructor Rungna Hiffo demonstrated yoga asanas to around 50 youths from the NCC and the NYKS. Hiffo encouraged the NCC cadets and the NYKS volunteers to "build discipline of mind and strength of body through yoga and lead a healthy life."
NYKS volunteers of East Siang and Dibang Valley districts also conducted yoga demonstration camps in their designated blocks. More than 60 NSS volunteers of JN College in Pasighat performed various yoga asanas under the guidance of NSS Programme Officers Drs K Kadu and I Perme.
In West Kameng HQ Bomdila, yoga instructor Kunjung Lhamu demonstrated yoga asanas.
Common yoga protocol demonstration camps were also organised in Tirap, Lohit, Upper Subansiri, Lower Subansiri and West Siang.