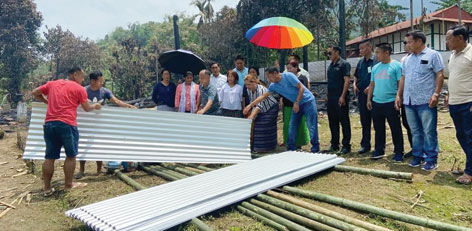 BERA, 14 May: Relief items such as CGI sheets, utensils, essential commodities and blankets were distributed to GB Kamnga Akhang and Apang Akhang, of Bera village in Tirap district, by Khonsa West MLA Chakat Aboh on Saturday.
The houses of the two victims were reduced to ashes in a fire that had occurred here on 10 May.
An SDRF team led by DDMO (in-charge) Pik Tayum had immediately visited the spot and distributed immediate relief items to them. The team had also assessed the loss of property.
The MLA, accompanied by Dadam ZPM Zamwang Lowang, interacted with the victims and advised that they keep at least 20-25 metres of distance between their houses while rebuilding, in order to avoid fire accidents in the future.
She said that most of the villages in her constituency fall under hilly areas which are prone to fire accidents. "As such, the fireplace in thatched house kitchens needs to be taken proper care of by every individual," she said.
Elite Society of Dadam Area president Pantom Kamhua, Bera chief Bewang Lowang, public leader Tilong Kamhua and Bera GPC Mantong Lowang were among those present during the relief distribution programme. (DIPRO)