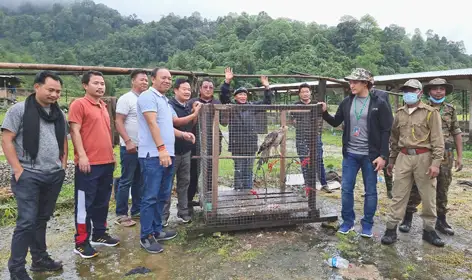 PAKKE KESSANG, 16 May: Environment, Forests and Climate Change minister Mama Natung on Monday, handed over a rescued juvenile mountain hawk eagle (Nisaetus nipalensis) to the authority of the Itanagar Zoo (Itanagar Biological Park) for further rehabilitation.
The baby raptor was rescued by Ajay Kumar Subha, an owner of a hotel, from the Rillo area of Pakke Kessang.
After hearing about the rescue of the bird, Natung rushed to the spot along with a team of officials from Itanagar Biological Park, headed by curator Raya Flago.
As per the statement of the rescuer, the young raptor might have fallen from its nest.
An ardent wildlife lover, Subha had earlier also rescued a Himalayan Griffon from the same area and handed it over to Itanagar Biological Park.
Natung commended the good work of Subha and appealed to the public to follow his footstep and refrain from any kind of hunting activities.
Itanagar Biological Park's veterinary officer Dr. Sorang Tadap examined the raptor for injuries and the bird is found to be physically healthy.
'As the raptor is not fully developed, it will be kept at Itanagar Zoo for further rehabilitation,' said zoo curator Raya Flago.
The mountain hawk eagle is found throughout the Himalayas extending from Pakistan, India, Nepal and China.
Flago thanked Subha for saving the juvenile eagle and requested him to continue his noble work. He also requested everyone to stop hunting and buying wildlife and their parts.