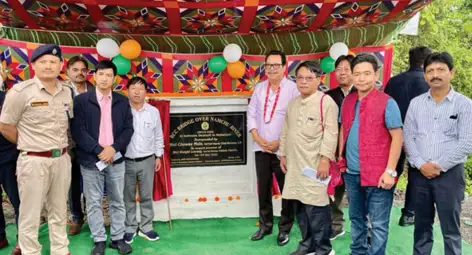 DEOMALI, 16 May: Deputy Chief Minister Chowna Mein on Monday inaugurated several projects in Tirap district, including the 0.10 MLD water treatment plant (WTP) at Namsang, and urged the people to use water judiciously and protect the catchment areas.
He said that state government has set a target of providing tap water connections to every household under the Jal Jivan Mission by 2023-a year ahead of the national target (of 2024).
Addressing a public meeting at Natun Kheti village, Mein said that the initiatives in the Budget 2022-23 have been taken for the common citizens under the philosophy of 'no citizen be left behind.'
"I am here to see that development and benefits of the government schemes are reaching to the last man of the society," he said.
Mein exhorted the youths of the area to shun the wrong path and avail the benefits of various government schemes,
like Deen Dayal Upadhyaya Swalamban Yojana, Chief Minister Paryatan Yojana, plantation crops and various schemes under Arunachal Atma Nirbhar Yojana.
He said that the government has enhanced the budget allocation under Deen Dayal Upadhyay Swalamban Yojana and Atma Nirbhar Yojana.
Apart from the WTP, the DCM inaugurated the 25 mtr RCC Bridge over Namchu River, an indigenous prayer hall (Rangsoam Hum), a Primary Health Centre at Natun Kheti village, the 35 mtr span RCC Bridge over Bari River and a Mahabhodi Wisdom Rising School run by Mahabhodi Educational, Cultural & Social Welfare Society at Deomali, in the presence of PHE and WS minister Wangki Lowang. During the visit, the ministers were accompanied by Tirap DC Taro Mize, SP Kardak Riba and PRI leaders. (DCM's PR Cell)