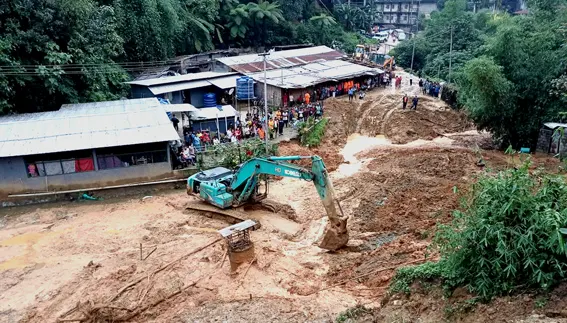 Staff Reporter
ITANAGAR, 17 May:  The body of a 35-year-old woman identified as Kusum Roy, who was reportedly buried alive in the massive landslide that occurred on Sunday evening at Yagamso colony in D Sector,  Itanagar is yet to be retrieved.
The district administration has launched an extensive search operation to retrieve Kusum Roy's body using excavator since Tuesday morning. The search operation is undertaken by the NDRF, SDRF, Capital police and supported by the local residents.
The search operation team has excavated the debris and mud to locate the missing body till evening.
"We tried our best with the help of excavator to find the missing body, but till evening we were unable to find it" said NDRF official.
"The search operation had to be halted by the evening due to poor visibility and it would resume in the morning" the official added.
"All efforts are being made to locate and retrieve the body which was buried inside the mudslide" informed deputy commissioner Talo Potom.
Potom appealed to all those persons residing near the river bank and the hill slopes to remain  alert and asked them to move to safer places.
Meanwhile, Capital SP Jimmy Chiram has informed that the citizens in twin capital cities have been alerted through media. However, SP Chiram added it is better to take precautionary measures till the weather is improved.
Relief camps have been set up at different locations such as the auditorium hall of GHSS, ESS Sector, Itanagar, government primary school C Sector, government middle school Kankarnalla, Naharlagun and Nikum Niya hall Nirjuli etc.