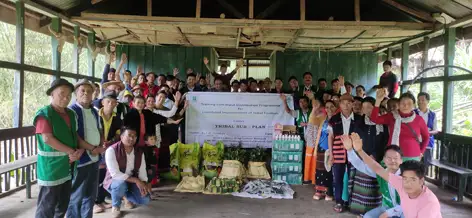 RATAK GAMLIN VILLAGE, 17 May: A training-cum-input distribution programme under Tribal Sub-Plan was organized by the ICAR (RC) for NEH Region, Arunachal Pradesh Centre, Basar here in Leparada district on Tuesday.
Modi Mission (Leparada district) vice president Mape Loye, who chaired the programme, requested the farmers to learn the technologies developed by ICAR and try to adopt the technologies.
ICAR Arunachal Pradesh Centre, Basar joint director Dr. H Kalita highlighted the technologies developed by the ICAR. He also spoke on round-the-year vegetable production through low cost polyhouse, plastic rain shelters and poly tunnels.
Horticulture scientist Dr. Thejangulie Angami explained about the nucellar seedling production of khasi mandarin and scientific techniques for cultivation of kharif vegetables.
Senior plant pathology scientist Dr Raghuveer Singh highlighted the diseases of large cardamom, khasi mandarin and king chilli and their management. He also elaborated on mushroom production technology.
Dr. Doni Jini and Dr. Joken Bam presented a practical demonstration on vaccination of poultry birds against Ranikhet disease.
Agro-forestry scientist Dr. Rajesh Alone focused on different agroforestry systems.
The programme was followed by an open scientist-farmers interaction to address the problems of farmers.  After the interaction, various kharif vegetable seeds, vermicompost, mahaphal (organic liquid), Assam lemon seedlings, knapsack sprayer and veterinary medicines were distributed among the farmers.