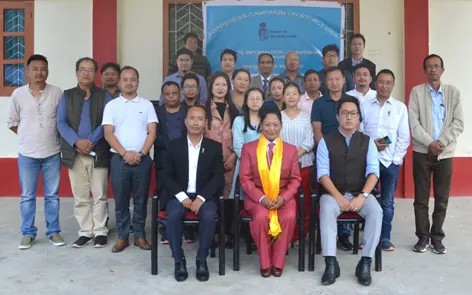 DIRANG, 18 May: The Arunachal Pradesh Information Commission (APIC) organized two-day awareness-cum-training programme on Right to Information (RTI) Act, 2005 at the ADC's conference hall here in West Kameng district on 16 and 17 May.
The training was organized particularly for government officers, public information officers (PIO) and assistant public information officers (APIO) to make them understand their roles and responsibilities in delivering the information to the information seeker.
Highlighting the importance of such campaigns in the state, SIC Sonam Yudron urged the officers to take due care in implementation of the Act.
"The HoDs, PIOs and APIOs should take due care in the implementation of the Act as it was mainly aimed at bringing transparency and accountability," she said explaining the various sections of the Act.
She also stressed on the need for proper maintenance of official records, properly catalogued, indexed and computerized.
Earlier, Dirang Circle Officer Nima Phuntsok emphasized the need of organizing such campaigns in the sub-division. (DIPRO)