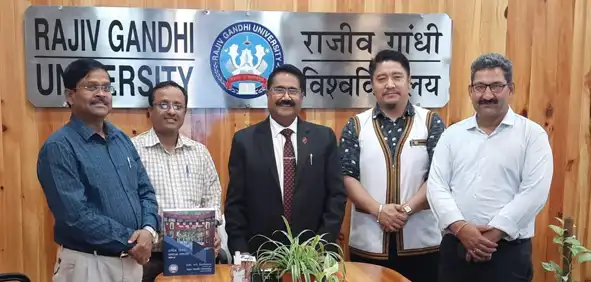 RONO HILLS, 19 May: Rajiv Gandhi University (RGU) here submitted its annual quality assurance report (AQAR) to the National Assessment and Accreditation Council's (NAAC) higher education portal on 18 May, months ahead of the deadline.
The NAAC is an independent national accreditation agency of the higher education institutions in India, which was established in 1994 as an autonomous institution of the University Grants Commission, with its headquarters in Bengaluru.
RGU Vice Chancellor Prof Saket Kushwaha commended the effort of the committee led by Basic Sciences Dean Prof Sanjeev Kumar, and said that "AQAR is a useful document which gives overall picture of the institutional growth of the university in all the seven criteria identified by NAAC for the year 2020-21.
 "It also provides systematic data with respect to various improvements to be taken up by the university," the VC said.
The university's Internal Quality Assurance Cell (IQAC) Dean Prof RC Parida said that "the AQAR is a yearly report which should be submitted to NAAC every year by all accredited institutions as per the prescribed new format only by online, as per the revised guidelines which has come into effect from August 2020 for the academic session 2020-2021."
He said that the NAAC has revised the guidelines for creation of IQACs and submission of AQARs in accredited institutions.
Joint Registrar Dr David Pertin, who is also a member of the editorial board of annual reports preparations, said that "AQAR is a complete academic mirror of the university which covers the entire academic, including the outreach and extension activities, and is helpful to know the improvements of the university after the last accreditation."
With RGU's last accreditation done seven years ago by the NAAC in May 2015, the AQAR submission is mandatory for the varsity as an already accredited institution, he said.
"The university is keeping no stone unturned for the institutional visit by the NAAC peer team to know the progress, functioning, as well as the quality sustenance initiatives undertaken by RGU," he added.
AQAR committee chairman Prof Sanjeev Kumar and the committee's convener Dr Rajesh Chakraborty also spoke.