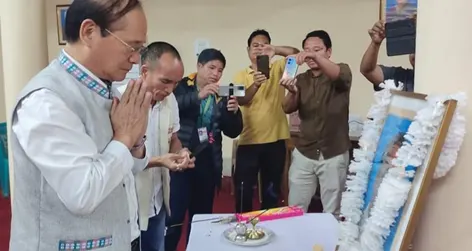 ITANAGAR, 21 May: The Arunachal Pradesh Congress Committee (APCC) observed the 31st death anniversary of former prime minister Rajiv Gandhi as Anti-Terrorism Day at the Rajiv Gandhi Bhavan here on Saturday.
Gandhi was assassinated by a terrorist organisation in 1991.
Paying tributes to the former prime minister, APCC president Nabam Tuki said that Gandhi was a "visionary leader" who fought against terrorism and violence.
"Gandhi's commitment and concern for the common people is well reflected in the measures
he had initiated to ensure fair and equitable distribution of fruits of development," he said.
"Gandhi had special love and affection for the people of Arunachal Pradesh. He gifted Arunachal statehood," Tuki said, and appealed to all to "rededicate themselves to fulfill Gandhiji's dreams."
Party leaders and workers, including APCC secretaries Shilley Sonam and Giogi Ganga, attended the programme.