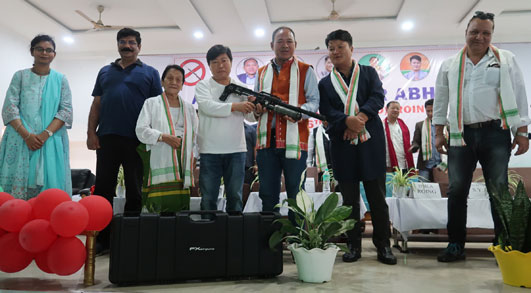 [Karyir Riba]
ROING, 26 May: Seventy-six airguns were surrendered during an Airgun Surrender Abhiyan (ASA) programme held at Giidi Notko here in Lower Dibang Valley (LDV) district on Thursday.
Forest Minister Mama Natung, in whose presence the guns were surrendered, said "We have 550 discovered species of birds in our state, including species that are not found anywhere else on Earth. If we do not save our forests and wildlife, no one else will come to save them for us. One should understand the significance of the ASA. As a tribal society, we have depended on nature and our natural resources since time immemorial. It is now time for us to give back to nature."
He appealed to other states and neighbouring countries also to "contribute to the motive of ASA."
"The world is a family and we should all look out for each other.
The government seeks to make Arunachal Pradesh airgun-free and for this to happen as soon as possible, we need cooperation from all sections of the society," he said.
The programme was organised by the Dibang forest division (T), headed by DFO Kenjum Rina.
Several social activists and people who surrendered their airguns were felicitated during the programme.
State BJP ST Morcha vice president Puinnyo Apum was lauded for surrendering his airgun worth Rs 3.05 lakhs during the event.
Dambuk MLA Gum Tayeng, who along with Roing MLA Mutchu Mithi was also present, said, "In the early days, the sound of birds chirping could be abundantly heard. It is not the same now because of unnecessary hunting. Even the smallest birds, the smallest animals, have not been spared. At the beginning of the ASA, only 4-5 had surrendered their airguns, but today, it is great to see this number grow drastically."
She appealed to others also to surrender their hunting guns.
Mithi in his address stressed on maintaining ecological balance, and commended Natung for his ASA initiative.
"What looked like a small initiative at first has now risen to the degree where even the prime minister of the nation himself has lauded it," he said.
Mithi commended the forest department and its officials also "for working relentlessly towards protection of the state's flora and fauna."
Social activist Oling Modi said, "Traditional hunting methods are not practiced anymore. Sophisticated weapons are used for hunting in a large number. Our state is like a sanctuary to many rare species of birds and animals. It is our duty to protect and preserve this wildlife.
"A 'chainsaw surrender abhiyan' should also be initiated to conserve our forests," Modi suggested.
Wildlife activist Ipra Mekola urged social media users to "create awareness and spread the message to protect and preserve wildlife.
"We should love and respect our wildlife. Every person should come forward to surrender their weapon and make the abhiyan successful in a complete sense. All surrendered weapons should be destroyed," he said.
LDV DC Soumya Saurabh and DFO Kenjum Rina also spoke.