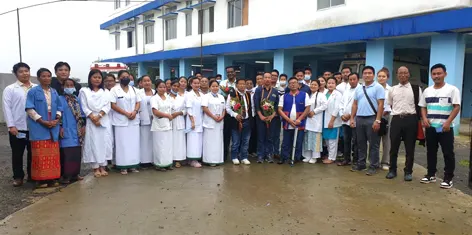 LONGDING, 27 May: Director of Health Services (DHS) Dr Moromor Lego, along with OSD Dr Reji Krishnan and epidemiologist Dr Tana Takum, inspected the health facilities in Longding district during a three-day tour of the district which concluded on Tuesday.
After inspecting the Kanubari CHC, the team proceeded to the K Noknu PHC and the health & wellness centre in Khasa in Khakam block, which were of late in the limelight due to maternity deaths.
The director expressed satisfaction over the functioning of the two health facilities.
Earlier, the DHS had attended the inaugural programme of the Lawnu PHC and inspected the district hospital here, besides the Pongchau CHC and the Tissa medical sub-centre.
The DHS and his team interacted with the staffers of each health facility and discussed the proper functioning of health services.
Longding DMO Dr Worar Taku informed the team about the shortage of manpower in the district hospital and other health facilities, and appealed for deploying adequate staff, so that better health services may be provided to the people.
He also urged the DHS to provide at least two ambulances along with drivers for the district.
Dr Lego assured to provide all possible help from his end, and urged the staff posted in Longding to "render their services for full term and not request for premature transfer from the district."
"Local government staffers in Longding are a few in number, so if the outsiders do not give their full service for at least three years, we will not be able to provide health services to the people of Longding," he said, adding that the doctors should serve the people with all sincerity and commitment.