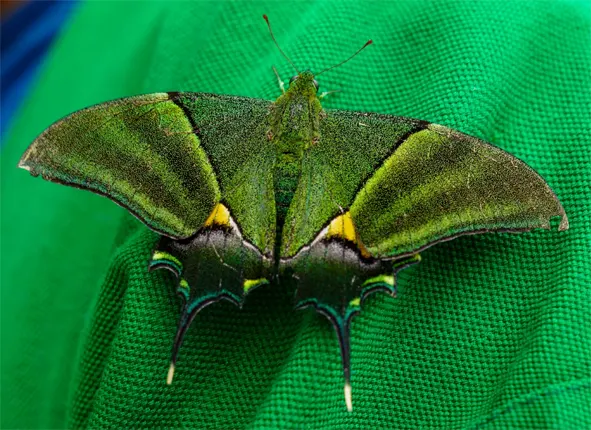 Staff Reporter
ITANAGAR, 27 May: An expedition team led by Siang DC Atul Tayeng and DLRSO Obang Mibang sighted a Kaiser-i-Hind butterfly in Luyor Pass area, at an altitude of 1,800 metres, in Siang district on 24 May.
The butterfly was sighted by the DLRSO.
The Kaiser-i-Hind (Teinopalpus imperialis) is a rare species of swallowtail butterfly and literally means 'emperor of India'.
Mibang, who is a wildlife enthusiast, had sighted another rare butterfly, the Bhutan glory, in 2019 in Upper Siang district.
"Such sightings in some habitats indicate a pristine healthy habitat for the species to survive and shall boost butterfly tourism in Siang and Upper Siang districts," said Mibang.
The expedition team visited Payum and Gaseng villages in Payum circle.
The trekking started from Migging village in Upper Siang district and culminated at Molo village in Siang district. It was aimed at obtaining firsthand knowledge of the issues being faced by the people of unconnected villages such as Payum, Gatte, Gaseng and Gaming in Payum circle.
The team took stock of the 72-km road alignment survey for the proposed Bille-Migging road to connect Payum circle in Siang district with Migging circle in Upper Siang district.
The trekking team crossed mountain ranges in Belak, Keteng, Luyor, Derging and Sirging, and visited James Point, a stone monolith erected by the then assistant political officer of the Siang valley sub-agency, PLS James, marking the official boundary between Siang and Upper Siang districts.