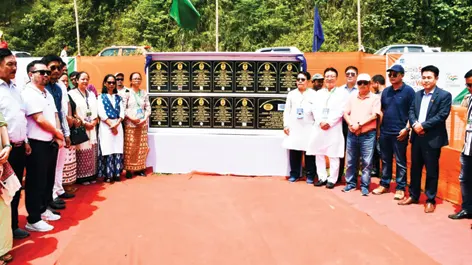 PITAPOOL, 28 May: PHED Minister Wangki Lowang dedicated a slew of developmental projects here in Lower Subansiri district on Saturday, in the presence of Education Minister Taba Tedir, ZPC Likha Sangchhore, DC Somcha Lowang, and others.
Lowang also laid the foundation stone for an 'adventure zone' in Yazali, and dedicated a trekking route from Chod village to Kiir Senyi.
In his address, the minister urged the locals to "inculcate tourism-friendly behaviour to increase the tourists' flow in the area." He also emphasised the need to protect the flora and fauna of the area, and requested the people to abstain from hunting.
Lowang also inaugurated various road projects, the office of the Yazali hydropower (E&M) division in New Pitapool, a community hall with a rostrum in Billo, a rostrum at the Potin general ground, and water supply projects for the villages around Pitapool from the general ground here simultaneously.
The minister assured to "sanction a separate PHE division and subdivision for the Yachuli assembly constituency."
Tedir in his address urged all the HoDs and PRI members to "strive to ensure that the benefits of the chief minister's flagship programmes reach the people in the last mile."
The ZPC also spoke.
The programme was organised by the Pitapool Zilla Constituency Development Committee, led by ZPM Nabam Piju and GPC Taba Ganya.
Yachuli ADC Toko Babu, HoDs, PRI members, GBs and others attended the programme. (DIPRO)