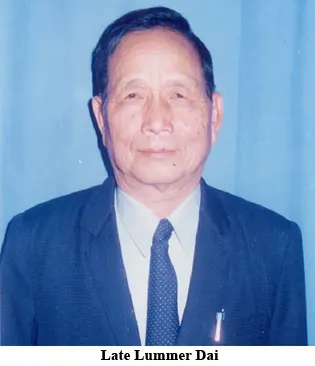 [ Tokong Pertin ]
My second innings as a government officer was as district information & public relations officer (DIPRO), and my initial posting was at Khonsa in Tirap district before the bifurcation of Tirap district into three parts, ie, Tirap, Changlang and Longding districts, which are together presently popularly known as TCL.
Before selection as DIPRO through rigorous process, I was working as programme executive in the All India Radio (AIR), having been selected through the Union Public Service Commission (UPSC). However, I tendered my resignation to join Arunachal Pradesh state government service as DIPRO in the early eighties.
I was fortunate enough to join in the service at the directorate of information & public relations and printing's (DIPR&P) office in Naharlagun, instead of my posting place for one week's acquaintance and familiarisation training in office functioning and press reporting, under the direct supervision and guidance of the then IPR&P director late Payi (surname prefixed to youngest son in the Adi family, equivalent to the youngest 'chacha' in Hindi/youngest paternal uncle in English) Lummer Dai (which post he held until his superannuation in 1998). Within a week, he (late Dai) made a lasting impression on me. To me, he was a great scholar, novelist, philosopher, and champion of women's causes, a social reformer through his writing, a guide, a father figure and a good friend. Love for humanity was always the most appealing part of late Dai's amiable nature.
After a couple of months, I was summoned to Naharlagun from Khonsa, for an urgent official work. On my return journey from Naharlagun to Khonsa, after attending the official work, my official DIPRO vehicle (Mahindra & Mahindra old version jeep), bearing registration No ART-81 (ART stands for Arunachal Tirap) had developed some mechanical problem and suddenly stopped at about 5 kms away before reaching Dhemaji town in Assam. When I enquired about the exact location of the place, I was told by a passer-by that it was Hatigarh on NH 52. On closer observation of nearby area, I could notice a milestone, which indicated Jonai and Silapathar as 105 kms and 40 kms away, respectively, and in the opposite direction, it indicated Baihatha Chariali and North Lakhimpur as 405 kms and 60 kms, respectively. My driver, late Gopal Rai, made sincere attempt to restart the vehicle, but the vehicle did not show any sign of picking its ignition. One or two vehicles stopped on my signal, but they politely refused to extend help as they didn't carry any tools for such eventualities. The local residents who gathered on the spot also could not help me either, despite their willingness to help me.
As a result, I was held up at Hatigarh for more then two hours. I was in great distress as no kind of help was imminent from any side. After more than two hours of my stoppage on the spot, a jeep suddenly stopped ahead of my vehicle and a man alighted from the jeep. At first glance, I could not recognise the man due to dust caused by impact of wind of the speeding jeep, as in those days the road was only made of gravel and stone chips. When the dust and suspended particles slowed and settled down, I could recognise the man.
He was none but my director of information & public relations, late Payi Lummer Dai, who came walking towards my vehicle and called my name. He enquired about what had happened to me and my vehicle. Alas! I though it was godsend help in the form of Lummer Dai. I proudly announced to the small gathering that the man who alighted from the jeep was none but my director of IPR, Lummer Dai, the great Assamese novelist, and that I am was officer in his department.
On hearing the name of Lummer Dai, a sudden but spontaneous makeshift welcome arrangement situation was created on NH 52, below the big Simolu trees (botanical name Bombax ceiba; some of the Simolu trees are still standing nearby said milestone in Hatigarh). Even some elders present on the spot invited Payi Lummer and me for jal-pan (light refreshment), to which Payi politely refused due to time constraint. In the meantime, much needed help too came immediately. A Good Samaritan managed to snap one of the telephone stay cables from the nearby telephone post, through which my jeep was towed up to M/s Dhemaji Mechanical Motor Workshop in Dhemaji by my DIPR's vehicle.
Since then, as a prized souvenir, I used to carry that very telephone post stay cable in my vehicle as a blessing rope/tool to use for myself or to extend help to others in need on the road in the event of similar eventualities encountered by me. On reaching M/s Dhemaji Mechanical Motor Workshop, I informed one of the garage boys that the gentlemen who had towed my vehicle was Lummer Dai, a great Assamese scholar and novelist from Arunachal Pradesh, and I instructed the boy to inform his master. Within a couple of minutes, the owner of the garage appeared with customary Assamese namaste to Payi and offered phulam gamucha, tea and snacks to us. Before proceeding for Aalo (along the then district HQ of undivided Siang district), he requested the garage owner to immediately attend to my vehicle's problems as I was to travel to Khonsa, covering a long distance, to which the garagewala accomplished the job within no time and I reached Khonsa safely and on time. At that time, Payi was accompanied by his dear and only little son Mibom (he was dearly called Bobom by Payi Lummer and close family members). I was told by Payi that he had got delayed for more than two hours at Lakhimpur on insistence upon by Bobom to get a new cricket bat from one of the sport shops in Lakhimpur. Whenever I happen to pass this very spot, Hatigarh, the big mother Simolu trees and milestone standing by NH 52's side always reminds me of the sweet memories of yesteryear with late luminous Lummer Dai.
Late Dai's literary works received late recognition in the literary world, but as the saying goes, better late than never, and in time late Payi got spontaneous love and affection from thousand of Assamese admirers and readers wherever he went. The physical and moral support extended to late Dai and his family members by the people of Assam when he was undergoing treatment at Down Town Hospital in Guwahati and also after his demise, is a tribute to their emotional recognition. Theirs was a truly touching gesture and Luminous Lummer Dai is a literary bridge between the people of Arunachal Pradesh and Assam in the true sense.
The people of Arunachal Pradesh cannot forget the support extended to one of our own sons and his family in distress. This showed in us the solidarity which proves yet again that had Payi Lummer received timely recognition and encouragement, he could have scaled many more literary heights in popularising Assamese literature. But the will of the almighty is otherwise to what we feel and desire. Late Lummer Dai, the youngest son of late Jobu Dai and late Komsak Dai, of Siluk, a small Adi village about 40 kms from East Siang HQ Pasighat, born on 1 June, 1940, breathed his last on 5 April, 2002 at 4:15 am at Down Town Hospital, Guwahati, Assam, and his mortal remains were laid to rest on 6 April, 2002 at 11:45 am in Naharlagun.
May this great soul be in god's keeping. (The author is former DIPRO and recently retired as director, trade & commerce, GoAP. He can be reached at tokongpertin@gmail.com.)